Promote your Business Locally
It's always good to promote your products and services where most people search for the same. While almost every marketer will be searching for the Internet spaces where people look for services, we at On Top Local have discovered the spots for effective online promotion. We are proud to offer our discovery as a unique marketing service and we call it "The Local Business listing".

What, where and how do we list?
We'll list your business in the appropriate category of the most popular Local Search Engines, yellow pages and local Social Networks of United States like yahoo local, ask city, yp.com, and much more. These popular local listing websites are the places where most consumers search for services and products. Hence more people will find your business and which in turn will get you more sales. Google's Matt Cutts recommends listing businesses in local search engines and maps. According to Matt, "If you're a brick-and-mortar business, you can show up for free in Google Local and Google Maps. This helps us, and it helps you, because you can be found. Often the business listings in Google local shows in the top of regular search results". Hence you will get more exposure to your business locally. If you have a website representing your business, the local listings in these local search engines will drive more traffic to your website and in turn increasing the visibility in search engine results.
Some of the Local Business Data centers like Superpages and InfoUSA will share the the listing we create for you with thousands of affiliate local sites.
Spreading your Message Across the Internet
Most company's are charging anywhere from $100 to $1,000 dollars just to list your business on Google Local. We take a comprehensive approach and we list your business in the Top 20 Local search engines and Directories. This guarantee's maximum exposure for your business and creates a very valuable presence and credibility for your business on the Internet. Why list your business in one place when you should be visible in every major website where local searches occur. That is why you need our complete Local Business Listing!

How do the Local Maps work?
Let's take a look at one of our Clients: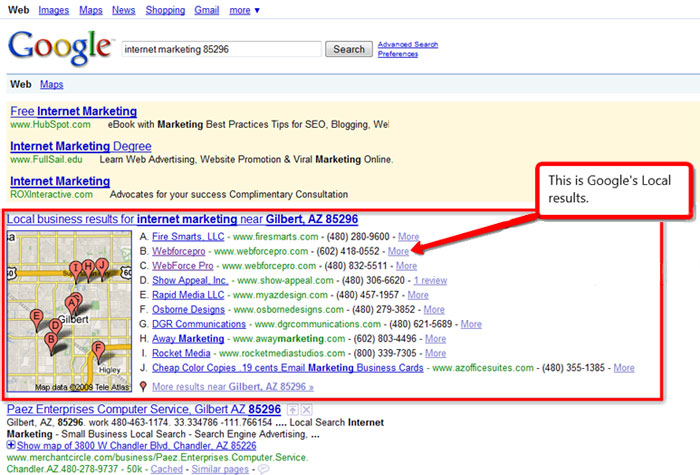 Closer Look:

Their Listing: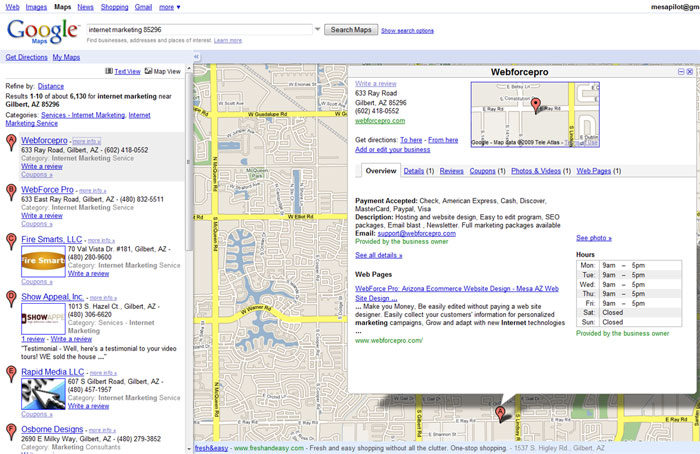 Closer Look: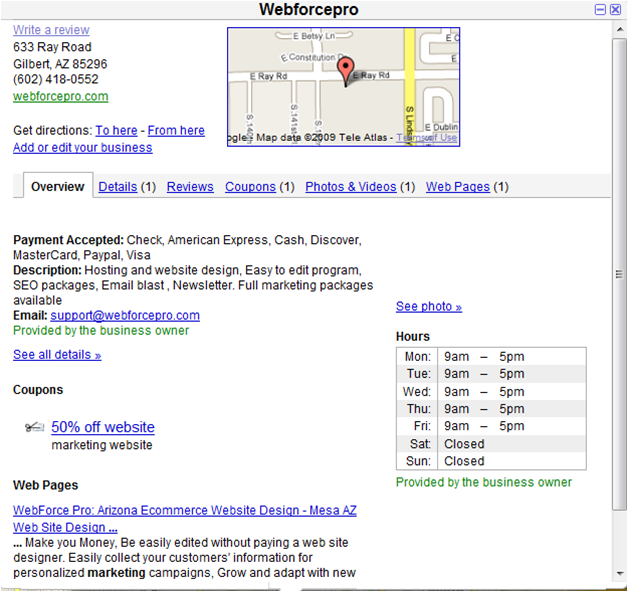 Results:
As you can see, WebForce Pro has been able to dominate internet marketing and website design in our local area. You will notice that WebForce Pro is in the number #1 position out of 6,130 internet marketing companies for our local area.